What are dental veneers?
Our cosmetic dentist in Bristol can carry out a popular non-surgical treatment using dental veneers to improve the colour, alignment and shape of your teeth, transforming the overall look of your smile quickly and comfortably.
Porcelain veneers are thin shells of porcelain which are made to fit over the front surface of a tooth. Like false fingernails, porcelain veneers are bonded to the front surface of the tooth with the unique ability to completely mask unattractive stains, while letting light through to appear entirely natural. Dental veneers can be created in a shade that matches your natural teeth, or they can also be changed to create a brighter, whiter shade as part of a smile makeover.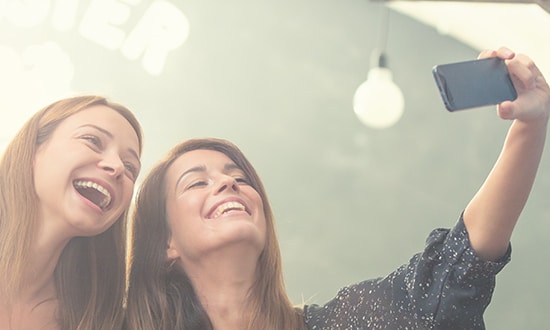 Can veneers fix my teeth?
Porcelain veneers can be used to correct:
Discoloured/stained teeth
Badly worn, chipped or fractured teeth
Crooked teeth, making them look straighter
Gaps (diastemas) between teeth
How much do veneers cost?
The cost of veneers can vary, depending on how many veneers are required for your case. For an accurate cost, please contact us to book an appointment for a consultation.
Dental veneers procedure
The procedure involves minimal preparation by cleaning and shaping the surface tooth enamel and an impression (mould) is then taken, which is used by the dental technician to create a plaster on which the veneer can be modelled.
At the next appointment, the veneer is 'tried-in' to check the fit and shape, and if the dentist and patient are happy with the overall effect, the veneer is cemented securely into place.
Look good, and feel good with our range of cosmetic treatments
Dental Veneers
Veneers are bespoke, thin shells of tooth-coloured porcelain material that cover the front teeth to improve the appearance.
Dental Crowns
A restoration that is used to fix broken or decayed teeth; it is like a cap and sits on top of the existing tooth, up to the gum line.
Teeth Whitening
Guaranteed results with either Zoom laser in-practice whitening or the Pola home teeth whitening system.
White Fillings
A tooth-coloured alternative to amalgam silver fillings. Learn more about white fillings.
Inlays/Onlays
Similar to fillings, but are used to mend larger back teeth cavities that have tooth decay or damage.
Cost of dental restorative work
Restorative Work (laboratory based)
Crowns
from £505*
Veneers
from £550*
Bridges
from £550 / unit*
Onlays / Inlays
from £550*
Post & core
from £180
Why book your consultation with Dental Touch?
Discuss the best treatment option for you
Get an accurate cost of your treatment
Meet the dedicated and committed team
Learn about our 3 year guarantee on dental implants